As royal mistresses go, Nell Gwynn is probably our most favourite of King Charles II's mistresses - and with good reason. This saucy, funny, beautiful actress was quite a loveable character - and her royal lover certainly knew that. John Evelyn referred to Nell as, "the Comedian & Apple-woman's daughter", whilst Samuel Pepys called her, "pretty witty Nell." She had risen from impoverished prostitute and orange seller to admired Restoration actress before catching the eye of the Merry Monarch. She had two sons by Charles - Charles and James.
Last month, my husband and I moved from Lancashire to Windsor, and I was excited for many reasons, not least because Windsor has an abundance of 17th-century history. As I turn one corner, walk down this street, stop in front of this house, I can't get over how much history is everywhere. Very near Windsor Castle, there is a small, quaint street which has an array of little shops and eateries. I daresay most tourists - overwhelmed by so much to see - don't realise how old the buildings are. There is a Chinese restaurant in what is referred to as "Nell Gwynn's House" - and there is an inscription on the exterior of this building that states it was built in 1640. You can see how close the castle is to the site of Nell's house.
"The Protestant Whore" had previously lived in houses in Lincoln's Inn Fields and Pall Mall. In Windsor, however, Nell Gwynn is most closely associated with Burford House. In The Story of Windsor, Maurice Bond stated, "Charles II had a strong affection for Windsor. [His] mistress, Nell Gwynn, had a house especially built for her (Burford House) just outside the Castle Walls, and her descendants, the Beauclerks, Dukes of St. Albans, came to play a considerable role in the life of the borough" (page 63).
James Beauclerk, Charles Beauclerk, 1st Duke
St. Albans, Nell Gwynn, by Richard Tompson,
after Sir Peter Lely, before 1693.
The Windsor that Nell Gwynn knew was one of rural life mixed with cockfighting, horse races, and there was a bustling new coffee house. According to
The Physical Shape and Urban Landscape of New Windsor 1500-1780
by E.J. Brown, "a coach and postal service were introduced in 1673 and 1674." The River Thames runs by, dividing Windsor from Eton. Windsor Castle, now known to be the oldest and largest inhabited castle in the world, was extensively renovated during the Restoration, following its use as a prison under Cromwell. You can read more about its history
here
.
By the time Nell began living in Windsor, the 1670s, the town had begun to see a rise in population. Such increase understandably led to some concerns about contaminated wells, more refuse on the streets, and associated health risks. In the early 18th-century, during the reign of Queen Anne, the population had risen more and the queen asked for water to be brought in from a neighbouring area.
As with the home in Pall Mall, London, Nell Gwynn wanted to secure the freehold of the house instead of the leasehold she was originally given. Now, this is a problem many people still face. Indeed, my husband and I had a leasehold in London and we had to pay rent for the land even though we owned the house. It's all rather confusing, but then as now it was far better - more secure - to have the freehold on a property than a leasehold.
Nell, always a sharp cookie, knew this and did obtain the freehold (first for the Pall Mall property) by telling the king that, "she had always conveyed herself free under the crown , but that she would not accept the house until its freehold was conveyed free to her by the crown." Nell and Charles's descendants continued to own Burford House until the late 18th century.
Image found in The House of Nell Gwynn, 1670-1974.
Burford House, however, was an enchanting dwelling, as you can see from the image above. Great, fabulous gardens were created, and it is believed that the land surrounding the house was no more than forty acres. You can tell how countryfied it was. It is to this day a remarkably verdant area - and I can understand why Charles liked it so - it's very different and quiet - in comparison to London. As a great deal of construction was going on inside Windsor Castle itself at that time, Nell was able to have the interiors of her new, modern home decorated by the highly sought-after painter Antonio Verrio and some elaborate woodcarvings were also created for parts of the house by the talented Baroque woodcarver Grinling Gibbons. We can only imagine how beautiful the end result was!
Despite her favourable position as a royal mistress, poor Nell was often in debt. In fact, one of King Charles II's last words was to his brother, James. The following is from John Evelyn's Diary entry for 6th of February, 1685:
He spake to the Duke [James, Duke of York] to be kind to his Concubines the DD: of Cleveland, & especially Portsmouth, & that Nelly might not starve.
...because she was so often in debt, starvation was a frightening possibility. James stayed true to his promise to his brother and paid of Nell's debts. Nell and Charles's son, the Duke of St. Albans, was financially better off than his mother.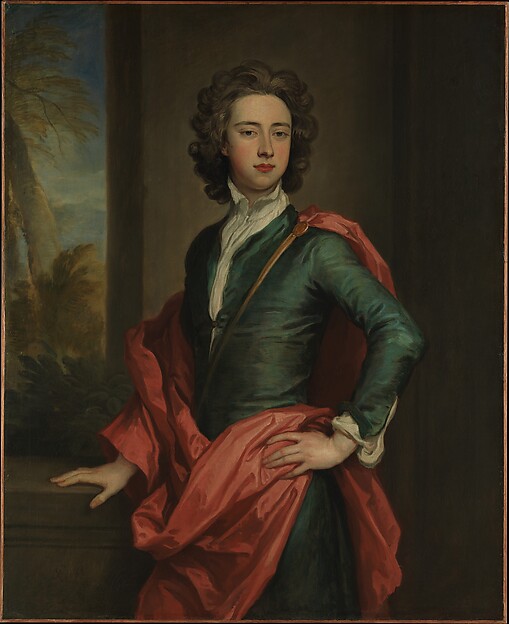 Charles Beauclerk, 1st Duke St. Albans. The Metropolitan Museum of Art.
As stated in
The Windsor Beauties:
The Earl of Burford was created Duke of St. Albans in January 1684, and ample provision was made for him by his father. There was a settlement of £5000 a year, chargeable on the Exchequer, he inherited on his mother's death Burford House, and he was given the reversion of the sinecure office of Master Falconer of England and Registrar of the Court of Chancery, both to be hereditary, worth some £1500 a year.
Beauclerk later became a favourite of King William III's following the Glorious Revolution of 1688/89, at which point his fortunes increased. Beauclerk lived in Burford House and eventually married Diana de Vere, with whom he had twelve children.
As I've walked around this part of Windsor, I've noticed so many shop signs and gift shop trinkets that feature Nell. Nell as the busty orange-seller, Nell as the romantic actress, Nell as the wanton mistress. A highly romanticised depiction of her from a 19th-century painting adorns the door to the Windsor & Royal Borough Museum (perfectly situated in the building that Christopher Wren designed!).
It's quite easy to imagine her in her colourful dresses, a bright smile upon her face, as she walked around these streets. I think she'd be astonished to find that, after all this time, people still think on her fondly. I like to think it's because she's the most accessible of Charles II's mistresses, and her warmth transcends time.
Bibliography:
Adamson, Donald and Peter Beauclerk Dewar. The House of Nell Gwynn, 1670-1974.
Bond, Maurice. The Story of Windsor.
Brown, E.J. The Physical Shape and Urban Landscape of New Windsor 1500-1780.
Evelyn, John. Diary.
Pepys, Samuel. Diary.
Melville, Lewis. The Windsor Beauties: Ladies of the Court of Charles II.
Powell, Roger. Royal Sex: The Scandalous Love Lives of the British Royal Family.
Andrea Zuvich (aka The Seventeenth Century Lady) is usually a 17th-century historian and authoress of historical fiction set in the 17th-century, but she has had to take a break from her beloved history for a month to deal with the craziness of moving house. Now that's sorted out (whew!) she's back, working on three books: William & Mary: A Novel, William Alone: A Sequel, and Anthea: Confessions of a Restoration Actress. She is also thinking about writing a non-fiction history on the Stuarts. She was recently listed as one of the Most Followed Historians on Twitter.